| | | |
| --- | --- | --- |
| | Recipe for | |
| | Westphalian Sour Roasted Horse | |
---
Ingredients
Makes 4 servings
The basic ingredients for the sour roasted horse are marked with an asterisk *. Yet the other items serve to enhance the fine flavour of the dish.
This dish is optimised for a side dish of red cabbage with apples. A good red wine selection would be a dry Blauburgunder, or maybe Pinot Noir, to be used for the red cabbage as well as for the roast.
The dish will be served with schupfnudels, which are seasoned with mace, too, to establish a link to the roast's marinade.
---
Preparation
Marinade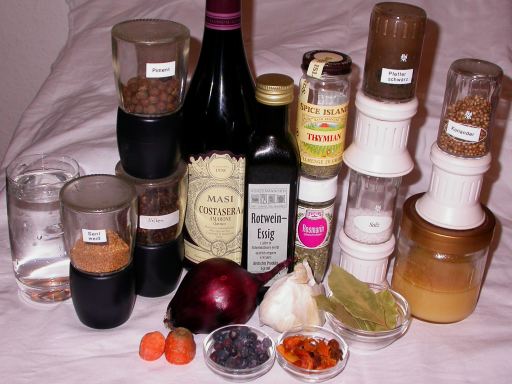 Cut carots and onion into thin slices. Peel garlic and chop coarsely.
Marinade: Water, vinegar, carots, onion, garlic, bay leaves, juniper berries, cloves, mace, pimento, coriander seeds, honey, salt, pepper, mustard seeds, thyme, and rosemary. Bring just to a boil. Don't use aluminium or other non acid resistant pot.
Let cool down to room temperature.
Add red wine.
Cover meat totally with marinade in plastic or porcelain bowl (no metal pots at all now).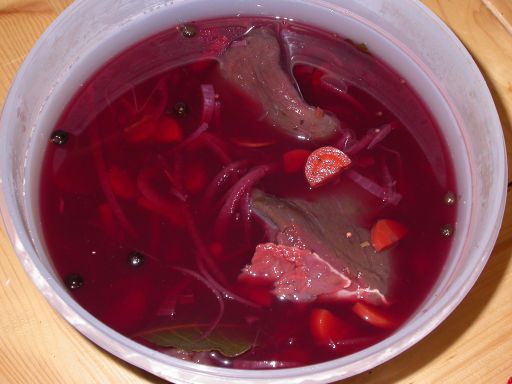 Marinade meat for 3-10 days, depending on size. Rule of thumb: 2 inches = 5 days. The meat should rather be marinated longer than shorter, since the marinade must reach the middle of the meat.
Store in refrigerator, turn over once per day.
---
| | | | | | | |
| --- | --- | --- | --- | --- | --- | --- |
| Sunday | Monday | Tuesday | Wednesday | Thursday | Friday | Saturday! |
| | | | | | | |
---
Take meat out of the marinade and dry well.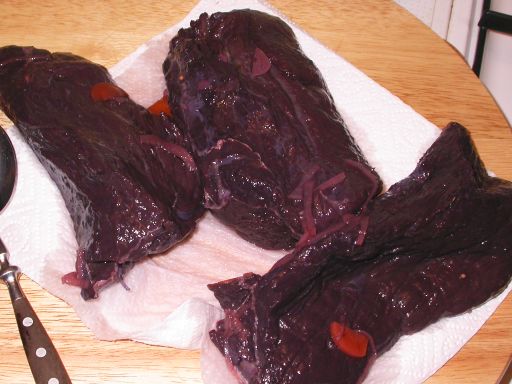 Filter the marinade and keep liquid and vegetables seperately.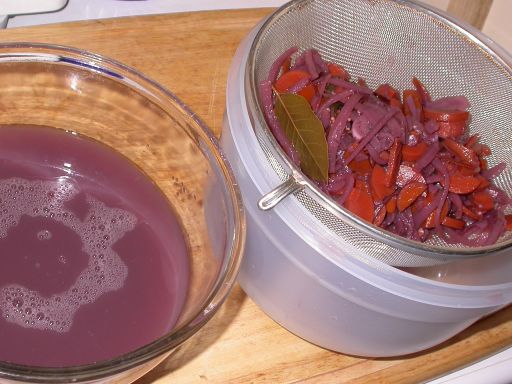 Salt and pepper meat and fry hot in oil. It is important to fry well since this gives important flavours.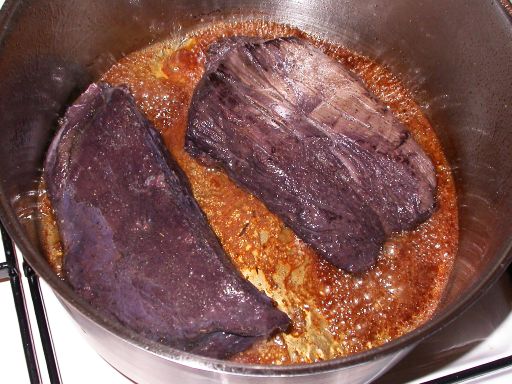 Add the marinade's vegetables and spices and let them take a light brown colour, too.
Add 1 pint of the liquid, red wine, the raisins, apple syrup, blackcurrent jelly, and half of the gingerbread. Bring to a boil.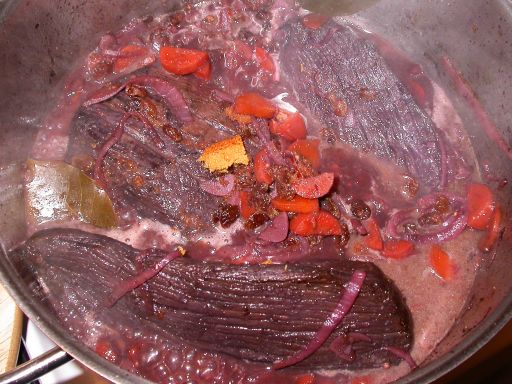 Close pot with a lid and put into the over at 300°F (150°C or 420K) for 2 hours. Add some water from time to time.
Take out meat and keep warm.
Pass sauce through a sieve to remove bay leaf, juniper berries and cloves. Do not bother to pass through sauce too thoroughly: you don't want a thick sauce now, just leave the rest of the vegetables in the sieve, too.
Add cream, bring back to a boil and reduce liquid a bit. Thicken with gingerbread. Possibly add some water and/or red wine. Add salt and pepper to taste.
---
Serve with schupfnudels (short thick noodles/gnocchi made from potato, flour and eggs) and red cabbage with apples. (This is not a Westphalian tradition, but it is still very delicious.)