Recipe for
---
Ingredients
---
These schupfnudels are a nice side dish for sour roasted meat.
You can use violet potatoes in order to get funny colour schupfnudels. Use a little more starch with these potatoes.
---
Preparation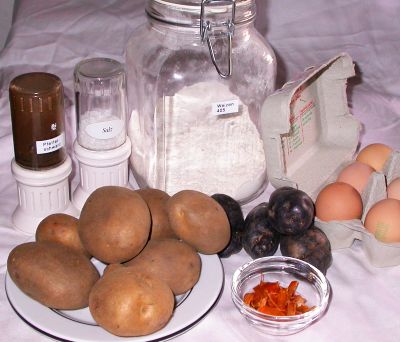 Wash potatoes thoroughly and cook in peel.
Let the potatos dry a bit, then peel them and let them stand for 14 min. to get dryer.
Push through a ricer, then let dry for another 15 min.
Knead with starch, flower, eggs and mace.
With flowered hands, take 15mm (0,6inches) pieces of dough and shape like small sausages.
Caution: the fresh schupfnudels glue together quite easily, even when a lot of flower is used. So process quickly and during the time of processing, keep them well spread and flowered.
Cook schupfnudeln in quite a lot of salted water. They are ready when they ascend to the water surface (after about 3-4 minutes).