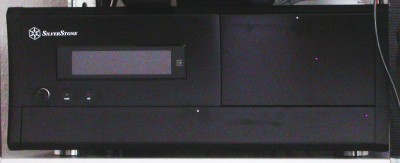 HTPC Photo
Thu, 2008-08-07: I wrote this whole stuff mainly because the iMON LCD I was using was not properly supported: you still needed a patch for LIRC even for the CVS version. You still need a patch for LCDd.
The patches which are available in some form or another from several fora work quite fine but LCDd only handles text, but my LCD display is graphical, and also I found the font quite displeasing and wasteful of space.
Another reason was that MythTV, which I tried first, would not read my CDRDAO images out of the box.
Further, I was displeased by the speed of MythTV's media browser, because it recursively searches the whole directory tree when starting, which takes a considerable amount of time.
Moreover, MythTV opens applications that cannot not handle remote control commands when you accidentally open the wrong item in the MythTV menus.
Finally, the MythTV configuration was partly done via huge menues in the GUI and partly, e.g. for some ALSA stuff, in good-old config files. I decided that the good old way would be the way I want it: nice configure files, also because a consistent and complete configurability inside the GUI is very hard to achieve.
I exclusively need a media browser, so I only used one plugin of MythTV. This plugin's functionality did not fully convince me, so I started to write my own little browser, basically without bells or whistles, but with the functionality I need and with the possibility for expanding it to something fancy later.